Essential Care Packages for Homeless Individuals in London: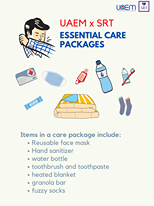 In December 2020, Universities Allied for Essential Medicines (UAEM) partnered with Student Relief Team (SRT) to assemble and deliver winter care packages for the homeless population in London.
As COVID-19 worsens globally, economic inequality is growing and those in the lower economic strata are facing disproportionate challenges. With the shelter system operating at reduced capacity, relief organizations have reported an increase in tents in London set up by those seeking shelter. As a club focused in health equity, we wanted to do what we could to provide a few essential resources to those in need.
We ran a Krispy Kreme fundraiser to fund this project and buy items for the care packages. Thank you to all those in the Western community who bought donuts!
We sold over 90 boxes of donuts, and were able to donate 40 care packages to a local community centre. These packages included personal hygiene products, food, face masks, and things to keep individuals warm during the harsh winter season.
To learn more about this project, and the other great things we do in the area of health advocacy, check us out on social media!
Facebook: https://www.facebook.com/uaemwestern
Instagram: https://www.instagram.com/uaem.westernu/
Website: https://www.uaemwestern.com/